You know that thing where your dog is skateboarding too loudly in the morning ... you don't? Right I forgot most dogs don't have their own skateboards. Tank is a strange one. I'm used to him of course, but yeah. Bulldogs are kind of not like real dogs sometimes.
---
Today is a normal day but then I have a mega long weekend and then school starts on Tuesday. And I AM SCARED. No, not really, I just have that back to school tummy. The air suddenly took on a crispness a few days ago, just in time for September.
I received a list of art supplies by email and went out and bought most of them immediately. I had to get a guy to help me because I didn't know what some of the stuff even was. That's true. And I got nervous because they could tell who my instructor was because of the particular-ness of the list and the expensive-ness of the stuff he asked us to buy. I subtly asked them if my instructor was scary and they said no but "he certainly knows what he wants". lol I guess that's a good thing but you guys
I am so afraid I'm going to be
THE WORST ARTIST IN THE CLASS
THE OLDEST PERSON IN THE CLASS
THE DORKIEST PERSON IN THE CLASS
THE SLOWEST LEARNER IN THE CLASS
What if everybody is already a comic book expert? What if they're all 18 year old prodigies? What if the class involves computer skills I don't have? What if what if what if what if what if
Do I bring all my art supplies the first day? How am I going to get my gigantic sketchbooks there on the bus when it's raining? Should I rent a locker? Will the sketchbook even fit in a locker? How ... who ... what ... all the questions.
What if the first thing we have to do is like, draw a human and then everybody can do it but me? What if I'm the worst and everybody in the class are dicks about it?
---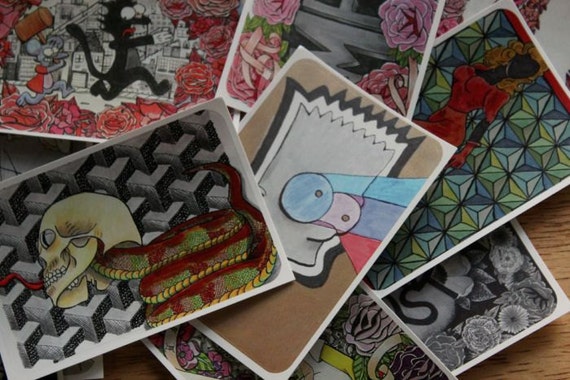 I made stickers. You can win a pack if you tag someone
on my instagram post
or you can just
buy some here
.